Binfield Dog Rescue
Maidenhead Road
Billingbear
Wokingham
Near Reading
Berkshire
RG40 5RR
UK
Telephone: 01344 421490 (11am-4:30pm)
NOTE: we clean kennels 9am-11am so we will not be have anyone to answer the phone between 9am and 11am except on Saturdays. E-Mail address: bdr@dogrescue.org.uk and bdr@dogrescue.net
NOTE: Binfield Dog Rescue does not accept invoices or forms sent via e-mail. Print it and post it to the above address. WARNING: Some company and .gov addresses reject our messages E.g. bracknell-forest.gov.uk so you may not receive our reply to your message. NORMAL OPENING HOURS:
Monday - Friday 1pm - 4:30pm
Saturday 9am - 4:30pm
Sunday 9am - 4pm
We are open for dog walking 9am-4pm Saturdays and 9am-2pm weekdays and Sundays. We do not walk the dogs if it is raining.

•

DIRECTIONS TO BINFIELD DOG RESCUE

What we do


Binfield Dog Rescue has been finding homes for unwanted, abandoned and stray dogs since 1966. We take in dogs from people that can no longer look after them, and unclaimed dogs from council pounds located anywhere in the UK. Many of these are Staffordshire Bull Terrier type dogs and Rottweilers because the rescues local to the pounds will not find homes for this breed of dog. We do not import dogs from Ireland or other countries outside the UK.

Please help us raise £1200 so that Miss Piggy can lead a normal dogs life!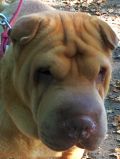 UPDATE 20th October: Thank you everyone that has donated to help Miss Piggy especially Nick Yates whose magnificent fundraising has enabled us to go ahead with Miss Piggy's surgery. Her eyelids have been corrected and we can now see her eyes. In time we hope that she will be able to see us better. I expect to post a photo of Miss Piggy's new look soon. Miss Piggy was abandoned at Binfield Dog Rescue and needs some help - click on her picture to see a larger photo. She is five years old and looks like she may have been used for breeding. Like a lot of Shar Pei's, she has entropion (interned eyelids) that she was born with, and requires surgery, so that she can see and lead a normal life. She gets scared when out walking because of her limited eyesight so will not walk very far. Her eyesight and daily life would improve if she has the surgery to correct this deformity. The rescue has a limited income and cannot afford this type of surgery - we have therefore set up this fundraising page in the hope that we can improve the life of this friendly dog and then find her the home she so deserves.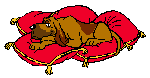 HOMES REQUIRED FOR RESCUED DOGS

BEFORE RE-HOMING A DOG READ THIS

Donations required


Binfield Dog Rescue has no rich benefactor, we rely on the donations we receive for the dogs to pay our bills. If you would like to contribute to our kennel repair fund please make your cheque payable to Binfield Dog Rescue and send it to:

Binfield Dog Rescue
Maidenhead Road
Billingbear
Wokingham
Berkshire
RG40 5RR


Binfield Dog Rescue survives on donations of food for the dogs and money to pay vet fees. If you would like to help a dog during it's stay with us please send a cheque or postal order for any amount or bring your food/money donation to the above address.

No Squeeky Toys Please


Toys that make a noise when you squeeze them can encourage some dogs to be aggressive towards young children because they squeek too. The device that makes the noise is usually small and can be harmful if swallowed. Some toys of this type contain a small battery which is poisonous if the dog eats it. The best toys are tuggers, tennis balls and hard chew toys that cannot be ripped apart.
17 Oaklands Park, off Fishponds Road, Wokingham

• Full medical, surgical, X-ray and diagnostic facilities

• Qualified veterinary nurses to advise on all aspects of your
pet's healthcare, including diets, flea control, worming, skin care,
dental examinations, etc.

• Personal caring service

• Pet Passports and Health Certification for international travel

• Vaccination, flea control and worming protocols tailored to
you individual animal

• Small animals/exotics also welcome (rabbits, guinea pigs,
hamsters, rats, tortoises, birds, etc) please call to discuss

• Microchipping - conventional as well as 'thermoscan' with
temperature reading.

• Quality oilskin dog coats in stock - try for size
Keep your dog warm this winter with DRIZABONE dog coats


Click here for St Vincents Veterinary Surgery location map
Please mention Binfield Dog Rescue when making enquiries


Kim Potter Dog Training

• Ever had the feeling that your precious dog is doing just as
it wants rather than what you want it to do?

• Let me show you how to be the pack leader so that you will be
confident with the knowledge that you can both control and
protect your dog.

• Your dog needs to fit in with your lifestyle. This starts with his
good behaviour in your home, in preparation for good behaviour
outside. The first introduction to young children and household cats
requires advance planning and patience!

• I can guarantee that you and your dog will both become
more relaxed and gain more enjoyment from your time together.

• Please just phone me to discuss your concerns. If I can help you
over the phone, I will.

Happy dog owner Marcia says: "Kim came to our home after we had rescued an American Bulldog. From the start we gained instant results. She is not only gifted in her understanding of dogs but of people too! We now have a very happy boy who has settled into our family life. Kim is always on hand for any follow up questions or concerns that we have and I have no hesitation in recommending her as a dog trainer."

For more information phone Kim Potter on 07941 392 521
or see the website www.kimpotterdogtraining.co.uk
Please mention Binfield Dog Rescue when making enquiries


LOST AND FOUND DOGS

CARING FOR AND TRAINING YOUR DOG

LINKS TO OTHER RESCUE ORGANISATIONS

NOTICE BOARD

RESCUE DOG RESCUES OWNER
---
Page updated:
20th October 2017